Nice houses for rent very close to Indiana University, Bloomington, Indiana
Looking for a rental house close to IU?
We own six rental houses just east of the Indiana University campus. All are in the Green Acres neighborhood. We love our houses and try very hard to take care of them and keep them nice. We also try really hard to be the best landlords around! We live here in Bloomington (just a mile east of our rentals), and are usually available not only to fix anything that needs fixing, but also to answer questions and help out our tenants whenever possible.
If you have any questions, call Paul at 812-720-3011. We'd be happy to show you the house or houses you're interested in. Or email paul@realtysearch.com.
We can show you how to set up the water, gas, and internet utilities.
One of our houses at 2401 E. 8th St. 2 bedroom, close to IU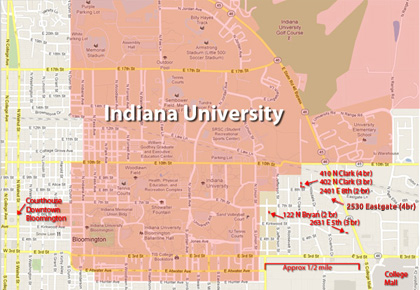 All of our houses are located within a half-mile of the IU campus, and close to both IU and city bus lines.
Available August, 2021
Other properties currently rented through July 2022:
2 Bedroom House
2401 E. 8th St, Bloomington, Indiana 47408
2 Bedroom House
122 N. Bryan Ave, Bloomington, Indiana 47408
3 Bedroom House
402 N. Clark St, Bloomington, Indiana 47408
3 Bedroom House
2631 E. 5th St, Bloomington, Indiana 47408
We do allow most pets in all of our houses -- but we require an additional $15/month per pet, and we reserve the right to check on the condition of the house and yard to be sure the pet isn't causing any real damage!
RealtySearch.com is owned by Paul and Jeannette Smedberg. For information on buying this domain name, contact Paul Smedberg, BCS Advertising at 812-720-3011, paul@bcs-advertising.com
Our company, BCS Advertising, designs, updates, and hosts websites for individuals, businesses and for IU departments. We also design brochures and print materials and ads.